Indoor + Outdoor Experiential Education
Our Special Projects division was formed in response to the rapid growth of adventure education at school and camp facilities. We are involved in all aspects of challenge course design and construction, and in experiential education curriculum development and training. Whether it be a grand high and low ropes course facility, an indoor climbing wall, or a few low elements, we work with teachers and administrators from idea to completion. Our clients benefit from our experience as we help them navigate relevant issues such as insurance, maintenance, and training.
Seeking a Ropes Course or Climbing Wall For Your School, Camp, or Community?
For more information please contact Special Projects Director, Carl Schmidt:
(908) 884-0810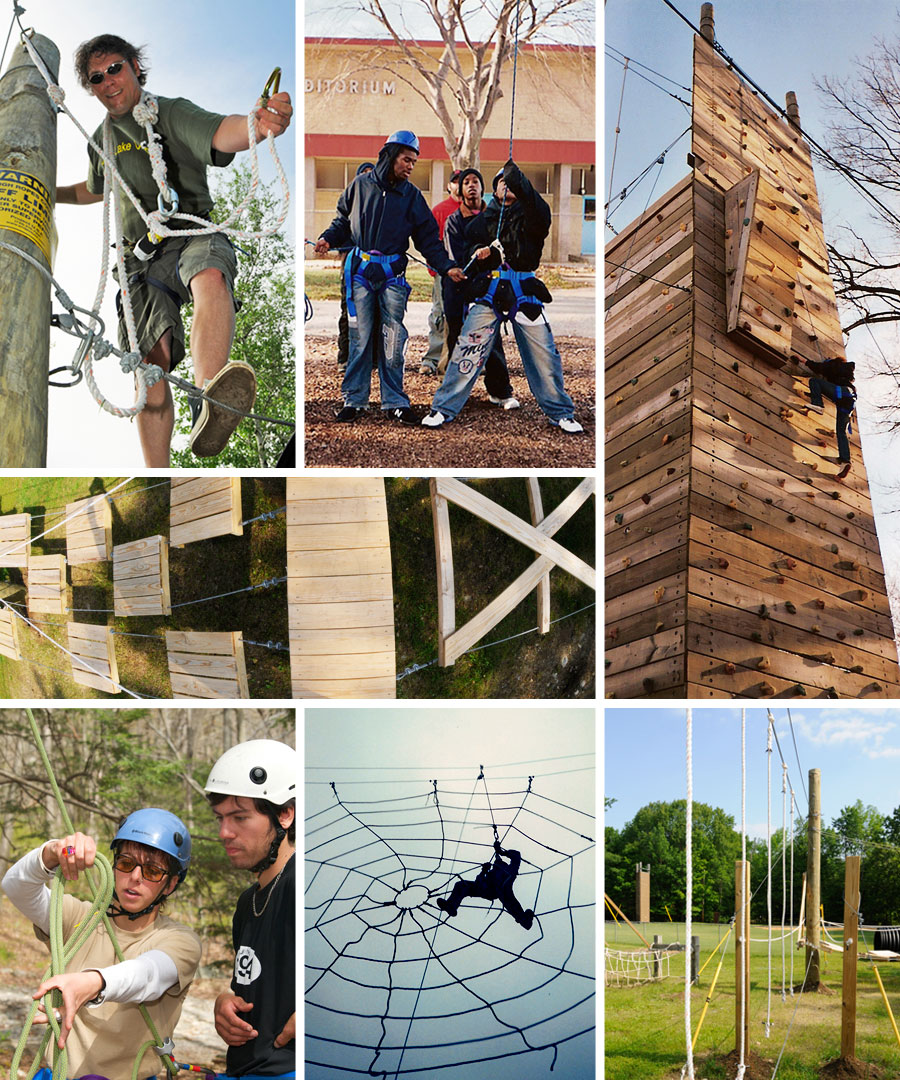 Michael Bagley Photography

A Few Words From Our Clients
"My name is Brian Junger, a teacher at Far Hills Country Day School.  One of my responsibilities here was to operate and maintain our high and low challenge course.  Over the past 2 years I was set to task as the project manager to do a complete renovation out on our course.  After many companies came in and out of here with their proposals, only one stood out the most.  Obviously it was Carl and your company Project U.S.E.  Carl took an amazing amount of time with me to prep and plan to be sure we were getting the best course possible for my budget.  Carl did not leave out a single detail throughout this process and kept his word from day one as to what he was going to do for my course.
Carl was always diligent in communicating to me whenever I called to keep me posted on what was happening next and what we needed to do moving forward to get the project done.  As a one man crew his work ethic and communication was outstanding.  As a home owner, you tend to get contractors that seem like you can trust them and their word…..that does not always turn out to be the case.  As far as Carl is concerned and my fellow department members would agree, he was outstanding in every facet of this process.  We could not thank him enough and as I am now resigning from my position here at school, I am thrilled that Carl will now oversee our course inspections from now on and hopefully build us many more elements in the future as the budget allows.
Please feel free to share these sentiments with Carl.  I have thanked him profusely already but felt compelled to share my thoughts with you as well."
— Brian Junger, Far Hills Country Day School
__________________________________________________________________________________________________________
"AWESOME!!! That is the only word I can say to elaborate the five day training I just completed with Carl Schmidt [Special Projects Director].
"I am a member of the Valley Youth House staff in Bethlehem / Allentown, Pennsylvania. Carl was spectacular. He demonstrates his vast knowledge and skills throughout the training and has the talent of educating……"Educators." I was in a group of ten staff members participating in my organization's growth training program. I had no idea what to expect when signing up for the company's program… And I summarize by stating:"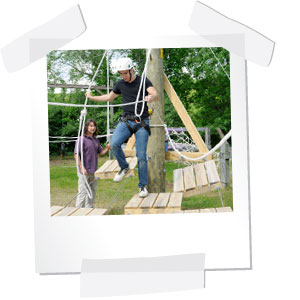 "Day One: Carl allowed us to figure each other out and he kept us baited with his charisma and skill. He observed each and every one of us to see where he was going to go with us…."
"Day Two: I was so sore, but Carl gave me the inspiration to keep going….. So I rolled out of bed into day two of "my choice" to be physically and mentally challenged. This day was full of professional challenges and therapeutic games……… AWESOME."
"Day Three: Absolute awe. Carl talked and displayed so much knowledge I wish I had a notebook."
"Day Four: Challenge by choice followed by deep intellectual processing. Absolutely meaningful to the field. He allowed the educators to think and process the events to connect a meaning to everyday work with the adolescent population we work with. Incredible."
"Day Five: This was when I realized I was totally out of shape, but Carl's motivation and character allowed the entire team to keep on going (including me)… challenging ourselves and learning about ourselves."
Overall: I am a person who NEVER processes online… However, I was exposed to such an incredible experience.. well thought out and planned and processed… I learned more then I think I have learned in a very long time. I learned about myself and about how I can be a positive helper in the adolescent community I work with. Thank You for sending such a knowledgeable worker to Pennsylvania to assist in our professional development. A+.
"Carl is well liked throughout the entire organization and I had the opportunity to meet him for the first time over this past week. I commend you on your choice to staff a member with his vast knowledge of educational, therapeutic, group, leadership and physical capabilties."
"In all… I wish to say – I was impressed and that takes a lot for me to go online and actually send a message to the 'higher ups'….. I went out of my way to inform your company of what you most likely already know…………."
"Thank you again for giving me the honor of learning from Carl."

—Michele M. Horst-Barns, MSW, Valley Youth House, PA