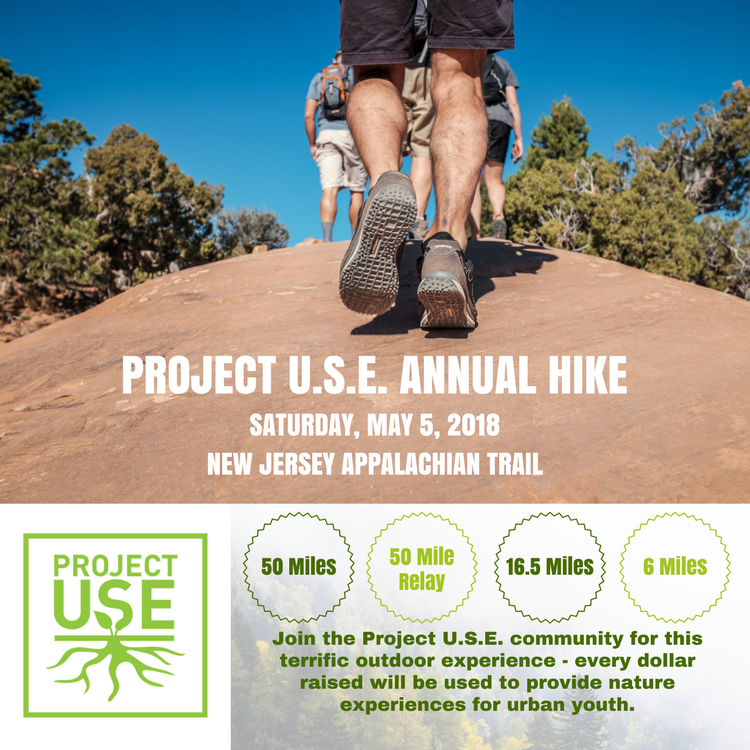 Join us Saturday May 5, 2018 for our Annual Spring Hike!  We have hikes available for everyone to have a great experience – choose from our 50-Mile Hike, the 16.5-Mile Hike, or the 6-Mile Hike. We are also continuing the 50 Mile Team Relay, where you can tackle the 50-Mile Hike with a team of 4 people. Challenge yourself, explore the wilderness with people who know and love it well, and help us positively impact thousands of young people's lives through experiential education.
Our Goal — 120 Hikers & $25,000
Each year our Annual Spring Hike breaks the previous year's record in terms of the number of participants and money raised.  Join us this year and help us reach our goal of 120+ hikers and $25,000 raised.
Don't feel like hiking, but want to support the efforts of others?
---

A special thank you to our 2018 Annual Hike Sponsor, Arborjet!  We are proud to partner with a company that values environmental protection and sustainability and a leader in tree/plant health products and solutions.  Find out more about their values and work, and learn more about their gardening initiatives that are tied into Project U.S.E. work with the Pedal Farmers program!
---
Your Impact
Your actions pave the way for Project U.S.E.'s work: serving thousands of young people and adults through experiential learning that promotes self-respect, strong character, and social and environmental consciousness.  All proceeds go towards our work and are tax-deductible to the extent permitted by law.
Project U.S.E. [urban suburban environments] is a not-for-profit 501 (c)(3) tax-exempt organization. All donations are tax-deductible to the extent permitted by law.